Everything I do - I can do in English
I speak English fluently after a career of over 25+ years in international business and with a university-level teaching degree in the English language. My LinkedIn profile is written mainly in English by the way and you can find it here.
In 2001 I started my own business and in 2015 I took on the company name "Het zakelijke hart". As a term it refers to "business & heart" or "heartcore results". It's all about in-depth understanding of who we are to be successful and effective in business while at the same time caring about our collective ecosystem.
I offer three kinds of services:
Coaching ~ Know thyself & understand each other: accomplish more in a healthy & relaxed manner, individually and as at team.
Sustainability sparring partner ~ Know your ecosystem and do business sustainably: achieve results that are beneficial to our beautiful planet.
Proces/project & programma management ~ Know your company & influence its results: bring about results that matter in a more efficient, effective and pleasant manner.
I like to work with ambitions independent professionals and SME's and their teams: you are the decision-maker yet open to reflection and dialogue and know that change starts with yourself; and that you'll achieve more if you team up rather than go at it alone. You want to achieve results while at the same remaining true to your authentic self, having sincere internal and external dialogues and while treasuring our ecosystem.
Questions that I can help you with are related to personal development & leadership questions in relation to your entrepreneurship and managing your company and team. Ranging from questions around perfectionism, self sabotage mechanisms, procrastination, visionary chaos and unable to bring structure into your work, to, how do we work more effectively together as a team, hearing all voices and in alignment with our vision.
Sustainability sparring partner
You want to be more sustainable with your business as independent professional or SME and don't know where to start. Or need help in taking your team along in this journey. Looking for quick wins and long-term goals and could do with an independent sparring partner. 
I identify three different phase in projects: Start, stuck and Safe. And I can help you in all three phases. In my Dutch ebook Leiderschap in Projectmanagement (Leadership in Project managment), I explain my SAFE-methodoloy.
SAFE being an acronym for your project Strategy, Acceptance, Faith and it's Effectiveness. It's basis is the difference between leading and managing a project. PS: project can be process or program too.
I am a practical, result-oriented & relationship-conscious coach, process, project and program manager.
All-round hands-on 25+ yrs of experience with process, project and team management for SME's and (inter)national enterprises.
Project & program management: from office move of 80+ people & technical infrastructure to implementation of IT Helpdesk and on site support function, from management of business games to implementations of ERP and IT service management solutions including training and communication to (user)communities from small teams to over 4000+ employees.
Process management: core business processes such as Sales, Billing, Customer Care, IT, Service Delivery and Service Assurance etc. From development to deployment and including training and auditing.
Coaching & Team management: from national & international, multi-cultural, cross-functional and including vendors and customers to independent professionals.
Various customer service industries: telecommunications, archiving, car leasing, engineering
Over 7+ years of experience in energy transition, mainly as a volunteer including co-founder of and chairing local Energy Cooperative, initiating local Climate Agreement, challenging local businesses to take action and interviewing them on the steps they took for publication in our local newspaper.
I've been trained in hard and soft skills such as:
Program Management – MSP© or Managing Successful Programmes
Process Management – AT&T PQMI, Process Quality Management & Improvement
Project Management – KepnerTregoe
Inner Family: as coach and consultant working with archetypal qualities
Family & Organisation constellation facilitator (Hellinger method)
Coaching, NLP, Talking Stick dialogue and various healing methods etc.
Types of projects or programs
Below I explain the three different project or program challenges that I can support you with: Start, Stuck or Safe.
Do you have projects where you could do with (more) clarity on its vision, strategy, blueprint, values, outputs, outcomes and benefits? Where it is crucial that you start with a good team spirit and clarity on the drives, wants and needs to all stakeholders? Looking for support in setting up your plans or in gaining stakeholder buy-in?
Do you know:
why this project has to happen?
what this project has to realise?
which internal and external stakeholders require what benefits?
how your project contributes to the company strategy?
whether you have the right people on the bus?
what senior management, sponsors etc. want and whether your project is truly supported?
whether you will meet with resistance in the organisation or your team?
whether all stakeholders have said what needs to be said and known about your project?
whether your budget is sufficient?
what values are critical to make this project a success?
whether all team members have faith in the project and its required outcome? Etc.
I can help you with
Interviewing stakeholders
Defining project benefits
Reviewing plans
Facilitating decision-making process
Eliciting project values
Facilitate dialogue with senior management
Facilitate kick-off etc.
Has your project run aground? Suffering from delays, conflicts and under pressure to deliver? Hard to meet planning, budget, stakeholder buy-in expectations?
Do you know:
when your project got stuck?
what is the main root cause for getting stuck?
whether all stakeholders agree on the current status quo?
how much it is costing you to be stuck?
what your project has delivered till now?
what kind of approach is required to get it back on track?
whether all involved people still want to be on your project?
what senior management really wants from you and your project?
whether the project was every truly accepted?
whether the project plan was followed and if not, why not?
what your personal influence has been on getting stuck?
etcetera.
I can help you with:
Auditing project process to date
Facilitating conflict-resolution
Interviewing stakeholders
Facilitating 1-on-1 or team dialogues
Validating project values
Provide coaching
Facilitating project restart
Do you want to be successful with your project from day one, with end-to-end sustainable results?
Walt Disney's quote highlights something that I strongly support: organisations have most if not all required project management and leadership talents and skills in-house. The only thing required is that every single individual is taken seriously and able to contribute with her or his talents in the right manner. How to have everyone work together as effectively and efficiently as is possible is the key question when it comes to managing successful projects.
Successful project management requires good project leadership. Good project leadership requires a 360-degree view on the project at hand. Learn how to use the SAFE-approach to ensure your projects deliver right first time benefits to all relevant stakeholders. I can support your project from start-to-finish while training you in the SAFE-approach so you can do it yourself from then on.
Our ability to respond
Every day, we make choices based on feelings, thoughts, past experiences and beliefs. We live a continuously faster changing world. How future-proof is your mindset? I believe that our ability to respond or our response-ability, is the differentiating factor to what the kind of world we create together. How capable are you and I in our response to what happens inside ourselves as a result of these changes? And to what happens to our environment, ways of doing global business, in our communities and in our own companies?
Sustainability 
We have to make more sustainable choices. We've past the point of no return. Those of us ignoring the fact that we are not only depleting our natural resources, but also creating havoc in vulnerable ecosystems are turning a blind eye to the truth.
Collective wisdom
Whoever we are, wherever we are & whatever we do, I believe we need to tap into our collective wisdom. If everyone is allowed to contribute his or her unique potential and qualities, we will be successful in creating a world that is a great place for us all. Whatever projects we take on, the outcome depends on our ability to hear and respect all voices, of all living beings.
Leadership
What we focus on is what we get. If we want different results, we need to change our focus. What is our vision? What do we wish to achieve, long term? What approach have we taken and should we be taking? How do we work together and create heartcore results: sustainable results that matter for you, me, our companies and our planet.
Courageous
Live from the heart. Feel the fear and do it anyway. In the early 90s I travelled for 2,5 years in the Far and Middle East in the pre-digital days: no email and no smartphones. If I wanted to be in touch with anyone at home, I needed to write a letter or put in a collect call at about $10 per minute. I made many a trip to local General Post Offices to collect letters from dusty shoeboxes behind "Poste Restante" desks. Catching a train in India meant showing up the station hoping the information in my first edition Lonely Planet guidebook was still up to date.
I loved it. I enjoyed and I still do, finding my way in new cultures. Just like getting to know a new team, client and organisation in every new assignment I take on. I have been an entrepreneur for 20 years now and it feels like travelling the globe. In 2015, I wanted to write a book and I took a sabbatical to do so. Pursuing my dream was a courageous move but I needed it: I learn by doing. My book is now published and it feels great. I like to dive into the unknown and make it work, one way or another.
Natural
I love nature and all things natural. I'm passionate about taking more and more sustainable choices, in my personal and professional life. For example, I reduced my plastic garbage within 12 months from 26 bags to 3-4 bags a year.
I co-founded a local energy cooperative in my village in 2014 and worked steadily towards more awareness locally on the need to take more ecologically sound decisions. Also, I take courses in bushcraft, learning all about living in the woods. I believe every step and every action by every individual counts towards local, national and eventually, and hopefully, global change.
Inspirational
I love to read, talk to people and learn about new ways of thinking, be it about personal or professional development. I am always looking for the connection between what I read and hear and how to incorporate this into my life and work.
I am also greatly inspired by people making a difference, pursuing their dreams, and as Brené Brown professor and author puts it in her book Daring Greatly. together is success.
Paperback/ebook for independent professionals
2015: published Dutch paperback Het zakelijke hart – ondernemen van binnenuit. Target audience: independent professionals who are breadwinners. Subject: provide both a personal development and a business model to support navigating the desire to realise an entrepreneurial dream alongside the need to make a living. No English version yet.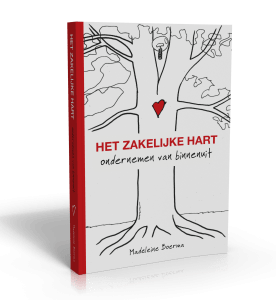 2016: published Dutch ebook on importance and relevance of Leadership in project management. Target audience: project sponsors & managers. Can also be applied to program management. Subject: how leadership in project management in today's world requires totally different skills and tools from management in project management. Includes a number of uncommon tools to increase project performance. English translation about 80% done.
eBook on Leadership in project management